The Dubai WTA tournament has been in existence since 2001 and will celebrate its 21st anniversary this year. Since the recent reform of the women's circuit, the Emirates are hosting a WTA 1000 tournament, the queen category behind the Grand Slams. Nevertheless, due to the pandemic context, the prize money has been divided by three since the winner will win $221,500 against $700,000 last year. It is a player who is no longer active and who holds the record of victories since 2007. The Belgian Justine Hénin has won it four times (2003, 2004, 2006, 2007) far from the eight titles held by maestro Roger Federer on the men's circuit. Venus Williams was not far from the Belgian's record with three titles (2009, 2010 and 2014). To date, there are only two players left who can potentially catch up with these icons of women's tennis. Simona Halep and Elina Sviloina have two titles each. For this 2020 edition, Elina Svitolina would like to find a third one as she is enjoying this tournament so much. But she will have to battle with great players such as Karolina Pliskova, Aryna Sabalenka and Belinda Bencic. The Swiss won the title in 2019 after an extraordinary tournament and created a surprise that year. The tournament will have the opportunity to welcome the best players of the circuit despite the absence of the recent winner of the Australian Open Naomi Osaka or the title holder Simona Halep. Not to mention the absence of world No. 1 Ashleigh Barty who withdrew due to a thigh injury. The weather conditions will be optimal even though the thermometer could reach up to 35 degrees on the weekend. The surface is quite fast and favours the hitters and big waitresses, as well as players who know how to use their counter skills to perfection. A style opposition had proven itself in the last final between Simona Halep and her outstanding defense qualities and Elena Rybakina with a game full of hitting power. For this 21st edition, we should see some very nice matches despite the absence of an audience. The question is whether we will see a surprise emerge ...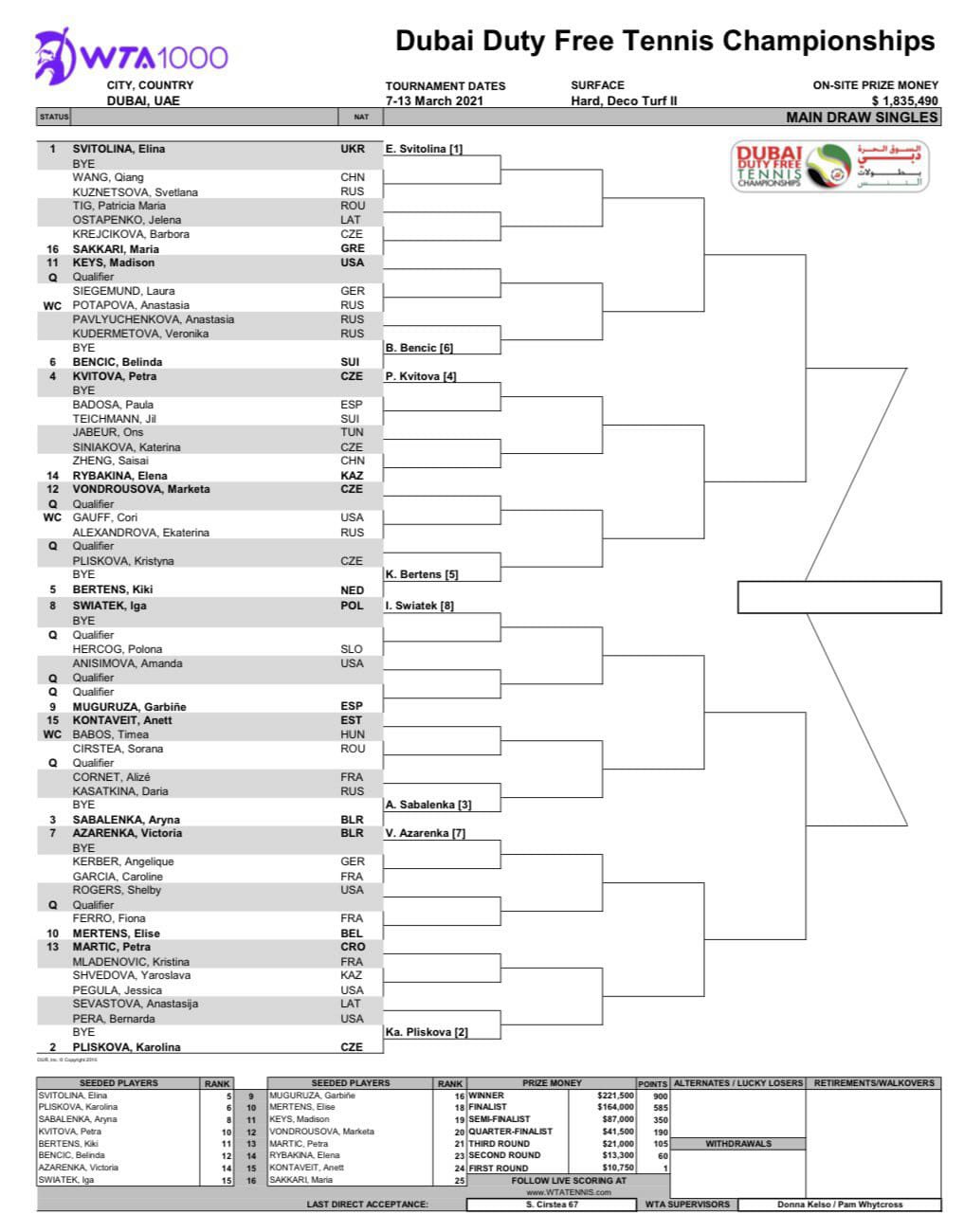 1st quarter table
The No. 1 head of series is back in Dubai. Elina Svitolina made the double in 2017 and 2018 in this tournament. These are conditions she likes in a city where she feels good every year. However, her results are mixed at the beginning of the season with a round of 16 at the Australian Open and a quarter-final at the Gippsland Trophy. She is showing the best in each of her matches with the exception of an incomprehensible defeat against an injured Azarenka. For this, she is going to experience a not so simple quarter-final. The Ukrainian could well find one of the in-form players of the moment, Maria Sakkari. She has played in four tournaments since the beginning of the season, reaching the semi-finals twice (Grampians Trophy & Abu Dhabi) and the quarter-finals at this week's tournament in Doha. The Greek is a true athlete and a hard to move player with real hitting power. Her serve has become a real weapon since the beginning of the season. One of these two players should logically make it to the quarter-finals, but one player could well disrupt the hierarchy. Jelena Ostapenko is back in the spotlight with the return of Marion Bartoli at her side. The Latvian is working hard to regain confidence in her game and especially her serve. She put up a solid performance in her first round in Doha and a little bit convincing in the second round. However, her striking power and her desire to return to the highest level with a coach who keeps pushing her should allow her to do something in Dubai. On the other side of this quarter draw, we will find Madison Keys who will be playing in her second tournament after her comeback in Doha where her performances were encouraging despite the lack of rhythm. She has a natural power and a remarkable quality of service. She should have a first warm-up round to get her legs ready to attack a second round that could prove to be a trap. She could indeed find the young Anastasia Potapova. The Russian doesn't have impressive results but her performances are very encouraging, especially her highly-rated performance against Serena Williams at the Australian Open. She has a powerful and enterprising playing style like the new generation emerging on the WTA Tour. She's fearless with a desire to bring down the best players. An opportunity she may have in her second round. We will also find the winner of the 2019 edition, Belinda Bencic where she beat Sabalenka, Halep, Kvitova or Svitolina. The Swiss girl had a difficult start to the season due to the lack of rhythm at the Australian Open. On the Adelaide side, she reached the final by showing a level of play worthy of her ranking with always this ability to take the ball early and come and attack her opponent. According to the table, she could make it to the 3rd round.  
---
2nd quarter table
We will find the recent title holder in Doha and seeded No. 4, Petra Kvitova. The experienced Czech player will continue on to this tournament in Dubai, which she appreciates just as much as the one in Doha. She already won this tournament in 2013 and played the final in 2019 against Belinda Bencic. In Doha, she played as usual with a lot of power and aggressiveness as well as a real application to the service with a lot of regularity unlike her beginning of the season in Australia. She should start her tournament not before Wednesday or Thursday because she is exempt from the first round. She will have time to recover physically and psychologically. We will have to count on her who will gain confidence with her very affordable first rounds. A certain Ons Jabeur could find herself on her way. The Tunisian was eliminated in the second round in Doha by Karolina Pliskova. Jabeur still offers flamboyant tennis with always spectacular shots and an impressive explosiveness in her defense. She had been noticed last year by her completely crazy match against Simona Halep in the first round. She will first have to face the 2020 finalist, Elena Rybakina. The Kazakhe had impressed everyone at the beginning of the year 2020 with a total of 4 finals in two months for a title won. At the beginning of the 2021 season, she is lacking in confidence in herself and her tennis. Nevertheless, she remains a formidable player and her first round should allow her to launch her tournament and regain confidence. A fit and confident Rybakina could well wake up and do some damage here in Dubai. She played a titanic match against Simona Halep last year in the final. Marketa Vondrousova is back after a half successful but encouraging Australian Open. With her vista and finesse of play, we know her qualities of mobility and her ability to outwit her opponents. She is one of the players who could make it to the quarter-finals. However, she could well find herself before a certain Coco Gauff who impressed Adelaide by reaching her first semi-final in a WTA500 tournament at only 16 years old. She is young but very mature in her way of playing and her defensive qualities are remarkable. She has the ability to move forward quickly with heavy and precise shots. The little downside remains the serve, which is too irregular. Before hoping to cross the path of Vondrousova, she will have a first round not easy at all against Ekaterina Alexandrova. The Russian is indeed one of the players that should not be underestimated on hard (61% of victories) with her very powerful game and her flat shots without too much variation. She is able to beat the very best players when she is confident with her risky style of play. Kiki Bertens may well come into the battle. The Dutchwoman returns to the competition after her foot surgery. She will play in her second tournament in 2021. We know the tennistic quality of this player with her ability to defend very well and to vary the game. She prefers clay courts but knows how to perform on hard courts. Her first laps could allow her to regain her rhythm and why not believe in her chances to achieve a beautiful course in Dubai.  
---
3rd quarter table
Iga Swiatek is present in this 3rd quarter. The Pole had a great week in Adelaide with a title won against Belinda Bencic. She proved that she could also compete on hard court as well as on clay. Very mobile and powerful in her hits, she has a very nice hand and could well believe in her chances in a draw game that remains wide open. In the third round, she could find the revenant Amanda Anisimova, young American hopeful back in business after having contracted Covid-19. We don't know where she will be in her first matches with a lack of rhythm that could be felt. However, she should have an affordable first round to allow her to regain pace and confidence. She's talented with a lot of hitting power.
Before believing in an electric 3rd round, she will have to play against a very fit player. Garbine Muguruza never ceases to impress with an exemplary tournament in Doha despite her heavy defeat in the final. The Spaniard has not yet won a title this year despite two finals (Doha and Melbourne). She is punchy and thirsty for victory. After a lost final this Saturday, she will want revenge and go far in this tournament in Dubai. Anett Kontaveit really impressed in Doha despite her defeat in the quarter-finals against Petra Kvitova. The Estonian remains the only player to have taken a set from the Czech. She is very applied and serene in her game with a lot of commitment and power in her strikes. She has all the qualities and determination to go for a 3rd round. Aryna Sabalenka is present in Dubai after her early defeat in Doha against Muguruza where she was defending her 2020 title. The Belarusian remains the player to watch out for on this surface with her committed and really powerful game. Her risk-taking goes hand in hand with an accumulated confidence that allows her to succeed in everything. Lately, she has had a hard time keeping up after her big start to the season and her title in Abu Dhabi. Nevertheless, she will have the opportunity to have a first single round to launch her tournament allowing her to join a certain Estonian woman to seek her place in the quarterfinals.
---
4th quarter table
Vika Azarenka is announced as present in this tournament in Dubai. Her presence will remain a question mark until her first match as she withdrew from the semi-finals in Doha due to a back injury that has been lingering since Australia. If she has recovered well, she will remain a real client in this part of the draw with playing conditions she loves allowing her to develop her game in rhythm. Another player is in great shape at the beginning of the season and will play her first tournament in Dubai. Shelby Rogers is back after a very encouraging Australian tour with 8 wins to 3 losses and two quarter-finals. The American is clearly in the best shape of her career after a serious knee injury that kept her off the court until April 2018. Her offensive play is pleasing to watch. Her recklessness and hitting power may well allow her to do well in this part of the table. She should be reunited with a player who also impressed during the Australian tour. Elise Mertens, who won the Gippsland Trophy and was defeated in the Round of 16 at the Australian Open, is in line for the end of the 2020 season and her final in Linz. She is impressive both physically and tennistically. She is a warrior on the court with this ability to defend very well. She has an affordable first round against a Fiona Ferro who will be dull from her big tournament in Lyon. Mertens should therefore have a second round against Shelby Rogers. On the other side of this quarter, Karolina Pliskova could well have her say with a clear path to the quarter-finals. She is struggling to keep up the good performances despite her strong potential. Her striking power and quality of service should serve her well here. Her collaboration with Sascha Bajin is working but needs a title to confirm all the work done since the pre-season. She could well find a player who eliminated her in Doha, Jessica Pegula, in the form of her life since the beginning of the season with a quarter-final at the Australian Open and a semi-final in Doha. The American is in the top 20 in the world. She is confident and wants to continue her ascent. To do so, she will experience very affordable first rounds before going to meet a certain Czech woman who will want revenge.
---
Our forecasts for the quarter-finals :
Q1: Svitolina vs Bencic
Q2: Rybakina vs Cori Gauff
Q3: Muguruza vs Sabalenka
Q4: Elise Mertens vs Karolina Pliskova
---
Our bets for the title :
Elina Svitolina 13.00
Karolina Pliskova 15.00
Belinda Bencic 26.00
Rybakina 30.00
---
Two months of subscription offered on our platform 100% dedicated to predictions: www.tbnpronos.com
Click on the image below to open a new Zebet account and take advantage of their welcome offer or use the code #TBN150 when creating the new account (come to a private message on twitter or facebook to retrieve your coupon code)
This post is also available in: Français